Javan has been at school for 10 years and is only just returning to his kingdom and father. Before he has the chance however, he miraculously survives assassination attempts only to find that an impostor is posing as him. When he tries to let the palace guards know, his uncle betrays him and he's sent to Maqbara, the kingdom's most dangerous prison. He must find a way out to save his father, out the impostor and save Akram from his uncles rule.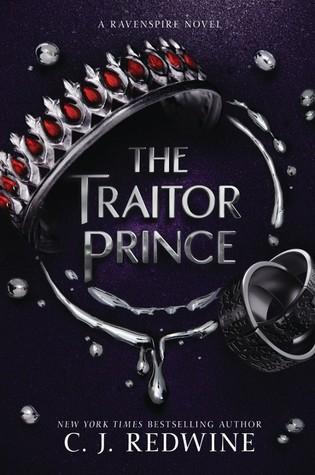 | Amazon |
The Traitor Prince
C. J. Redwine
The Traitor Prince read like a romance placed into a fantasy world. The main plot was so entwined with the romance plot that I am really surprised that it isn't a main genre on goodreads for this book. I was disappointed. This is also the third book in a series that can be read as standalones. I have actually heard so many good things about the first two books, but if they are anything like this one, I probably wouldn't be interested.
There were many magical creatures and fantasy elements within the book, but I felt like it didn't merge with the plot as well as it could. This could have been a gladiator style arena with real world animals, and all humans and it would have read the exact same. There's plenty of magical creatures but they're literally fodder to be killed off after a paragraph. There's mention of dark elves and fae, but we only meet one elf. And we rarely see actual magic happening. For a fantasy book this is so completely disappointing.
One of the good things is that the characters each have very individual motivations and reasons for what they do. Even the antagonist Rahim thinks through his plans in depth, and has a clear motivation to being the bad guy. There were however some secondary characters who were placed in the book purely to be part of our main characters motivations. There were a few deaths throughout, and I think too much emphasis was put on one death to push the story forward when it wasn't necessary. I also think the main character, Javan, was a little bit too naive to not understand that something was wrong with his father. But that could also be because as a reader we are told he's being poisoned and manipulated.
As a whole I found the book really dragged on. We spend approximately 80% off this book stuck in a prison. It's not that interesting and that's where all the romance stuff comes into play to make it interesting. We do see Javan ride across the dessert from his school at the beginning, and I was really disappointed that we didn't get any adventure style road trip time. We literally got a 'few weeks later he arrives' and then he's stuck. There's clearly a lot of world building in the series of books, which was just hidden so much behind the dull and boring walls of the prison.
Overall the book just didn't sit right for me, although I know it's anticipated by a lot of people. Maybe the previous two books were a lot better settings and characters, but I did not enjoy this story for multiple reasons.
POSITIVES
+ Character motivations
+ Clear world building
NEGATIVES
– Naive MC
– Dragged on a bit
– Romance too much of a focus
– Lack of actual magic
I received The Traitor Prince by C. J. Redwine from the publisher via Edelweiss. This is an unbiased and honest review