Alice and her mother have spent most of Alice's life on the road, always a step ahead of the bad luck at their heels. But when Alice's grandmother, the reclusive author of a cult-classic book of pitch-dark fairy tales, dies alone on her estate, the Hazel Wood, Alice learns how bad her luck can really get: her mother is stolen away―by a figure who claims to come from the Hinterland, the cruel supernatural world where her grandmother's stories are set. Alice's only lead is the message her mother left behind: "Stay away from the Hazel Wood." Alice has long steered clear of her grandmother's cultish fans. But now she has no choice but to ally with classmate Ellery Finch, a Hinterland superfan who may have his own reasons for wanting to help her. To retrieve her mother, Alice must venture first to the Hazel Wood, then into the world where her grandmother's tales began―and where she might find out how her own story went so wrong.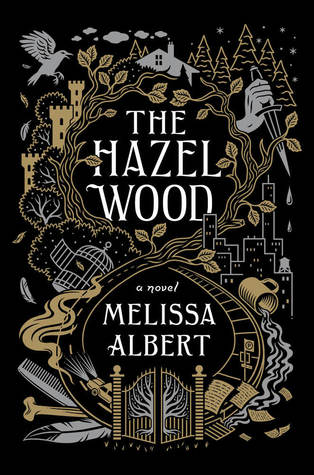 | Amazon | Waterstones |
The Hazel Wood
Melissa Albert
In The Hazel Wood I absolutely loved the Hinterland. The idea of it, the characters that come from it, and the world building once we reach it. Everything about just kept me completely enthralled which was why I was happy I read through the first part of the book. Alice's mother Ella has ensured she has no knowledge of the Hinterland or her grandmother, which means we spend a lot of time following Alice as she has to learn about them before she tracks The Hazel Wood down.
The Hazel Wood also made me extremely nostalgic for the fairy tales I grew up reading. The characters were quite dark and not the Disney versions of a tale at all, so getting out Grimm's book may be my next step. I also thought it was a very different approach to including fairy stories into the real world. This isn't some Once Upon a Time book and you don't always get the perfect rounded happy ending at the end of a story.
We're introduced to the Hinterland through Ellery Finch, a classic bookworm character. He's wonderful, and helps Alice get to the Hazel Wood to find her mother. He uses his usefully unlimited bank account to fund the adventure as well. The best thing about Ellery Finch is that he's completely set up as a love interest, but there's no romance at all. They share hotel rooms, have car trips and go through hell together, but for once the two characters keep a platonic and wonderful friendship.
One of the main plot twists was pretty predictable and heavily hinted at throughout the book, so I don't think it could really be called a plot twist? But it did make me want to continue reading it because of the consequences of the actions taken. The book was also written so well that it pulled you into the story. It was creepy and magical but also funny at times. One of my favourite descriptions by Alice was 'They looked like Etsy jewelry on steroids' which comes at a time of crisis for her. She just made the book seem so real.
Overall, I definitely think everyone should pick up this book and hopefully Melissa Albert will be writing some more novels soon.
POSITIVES
+ Hinterland world building
+ Nostalgic for childhood fairy tales
+ No romance
NEGATIVES
– A tad predictable
– Wish it had more set in the Hinterland
I received The Hazel Wood by Melissa Albert from the publisher via Netgalley. This is an unbiased and honest review